Piercing Information
You know this one Guys! Many combinations are possible with the Lobe.

You've got two options when you're getting your conch pierced inner or outer, both of which depend on the anatomy of your ear.

This piercing is located along the inside ridge of the upper ear and so popular

Follow the curve of your cartilage around the ear until you reach the side of your face, and this area is called a forward helix. You can also have double or triple forward helix piercings.

The rook piercing is one of the more unusual inner-ear piercings, situated in inner ear closest to the head.

Located in the innermost fold of your ear cartilage and look's amazing with the perfect piece of jewellery

The Tragus is the piece of skin that sits to the side of the face and due to the location is the perfect place to showcase a Stud or Ring.

A flat piercing sits through the 'flat' area of skin between your ear canal and cartilage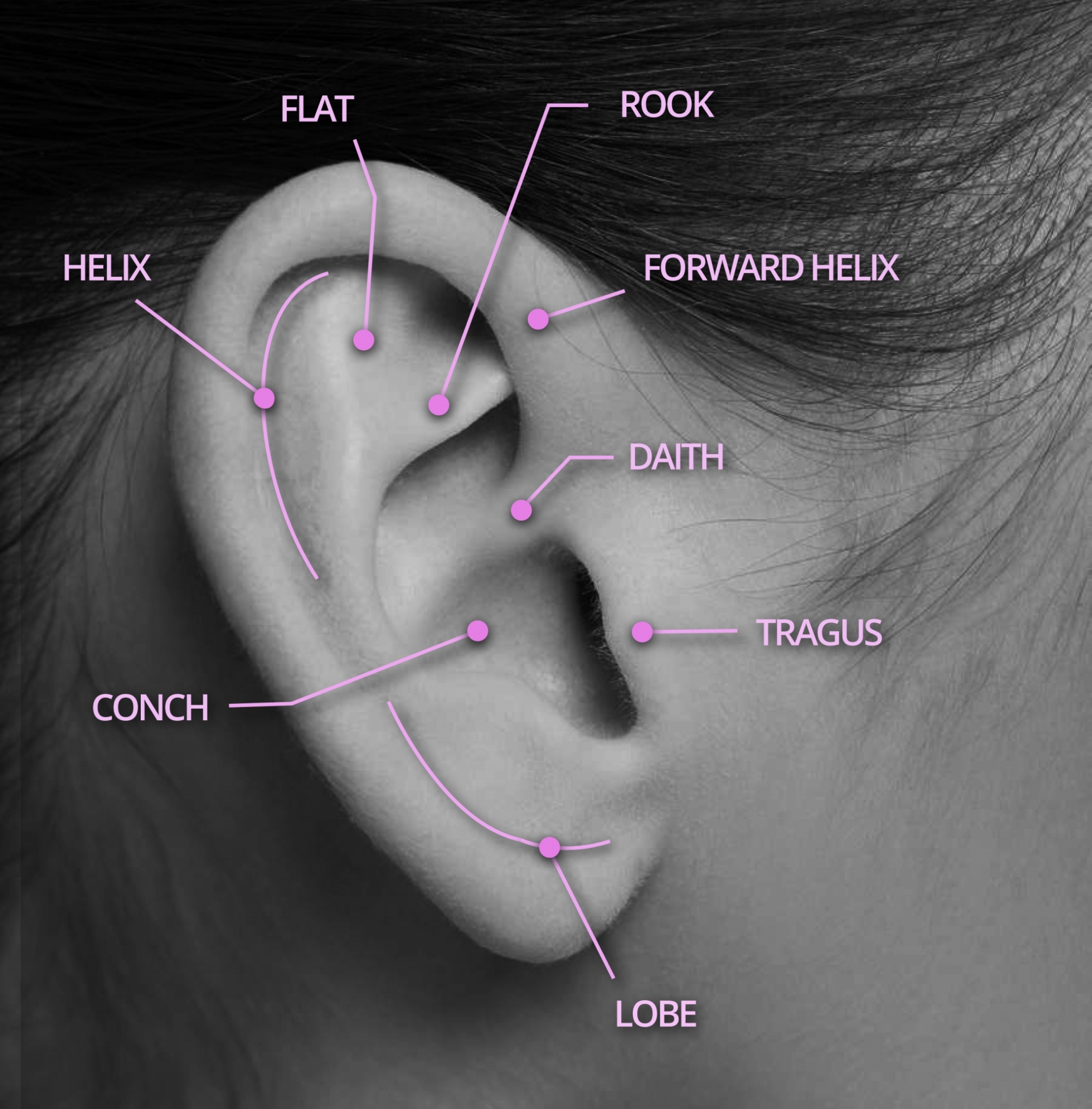 EXPERT PIERCING & FINE JEWELLERY
At The Vibe we are committed to the highest standard of expert piercing & fine Jewellery. We pride ourselves on our ultra-modern studios in a hygienic & friendly environment.

All initial piercing's are performed using Grade 23 Titanium & 14kt Gold.
Our highly trained Piercers apply their expertise & love of the craft to all Body Piercing & will assist you with jewellery choice, placement & aftercare.
STUDIO HYGIENE
Here at The Vibe we take Cleanliness & Hygiene very seriously.
 
We use autoclave sterilization & single use piercing needles. We pride ourselves on our ultra-modern sterile studios .
AFTERCARE
Our Piercers will guide you through appropriate aftercare & provide a detailed Aftercare Leaflet to take home. Check-ups & post downsizing are complimentary for piercing performed at The Vibe to ensure your piercing is perfect.